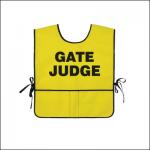 Ski racing is unique among sports in the number of officials it takes to run an event. During your athlete's career as a ski racer, you WILL be asked to function as a gate judge. Gate judges are similar to officials in other sports in that each must make instantaneous decisions on a particular situation. Among other things, Gate Judges decide whether a competitor has passed through a series of gates correctly or has committed a "fault". Decisions must be prompt, consistent, and properly documented. Gate Judging is considered "the most important people on the hill."  
The success and fairness of PARA racing depends on volunteers like you. Recognizing that the fairness of ski racing is often determined by the quality of the gate judging, PARA and its member clubs have created this program to give gate judges an opportunity to increase their knowledge.
Volunteers will become eligible for additional incentives at most races if they choose the option of becoming a certified Gate Judge. At some point in your child's racing career, you WILL be asked to be a Gate Judge. Whether you are interested in certification or not, we strongly encourage all PARA members to attend a Gate Judge educational clinic or watch the United States Ski and Snowboard video and review the self - study materials available on the links below. By learning this material, you are helping to ensure that your club will continue hosting races in the future, that races are conducted fairly for your child and all others, and that you can help your child learn some of the basic rules of ski racing.
Please take some time and go through this material, become a certified Gate Judge, and take advantage of the program.
image: